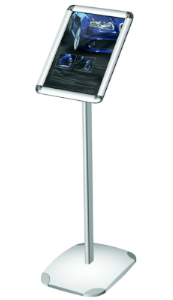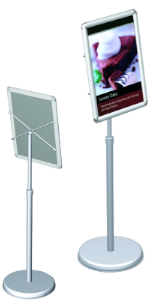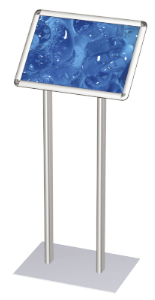 Decorative Brochure Stand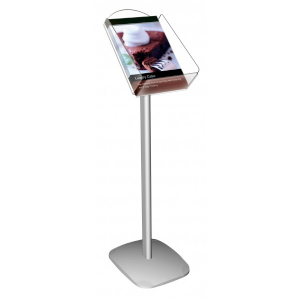 ✓
Stylish and functional internal messaging.
✓
Rounded base offers improved aesthetics and safety.
✓
Portrait or Landscape display.
✓
Attractive and flexible information display
✓
Incorporates an A3 snapframe for quick and easy poster change
✓
Telescopic option allows flexibility of display height and angle
✓
Height adjustable between 1000mm & 1450mm
✓
Traditional information A3 poster Display
✓
Provided with PVC antiglare poster cover
✓
With rounded corners
✓
A3 landscape unit height is 1200mm
✓
A4 brochure display plinth
✓
Aluminium leg with polycarbonate display shelf
✓
Moulded Silver plastic base with internal steel plate for stability
A4 Portrait
A4 Landscape
A3 Portrait
A3 Landscape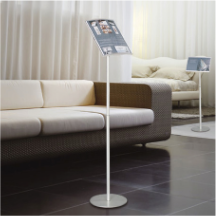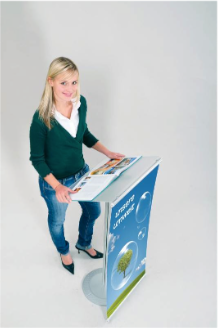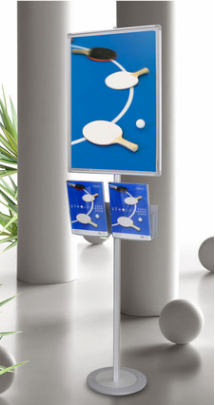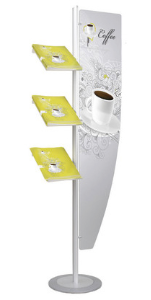 Swift is a freestanding floor display with telescopic bar and round base. A dust proof
and elegant presentation of single sheet information without a visible frame. Exchange
anytime by opening or taking away the front cover. The clever design allows quick
rotation from horizontal to vertical.
The free standing desk with its satin acrylic tray is ideal for presentation of menus, catalogues, guest books, flyers and much more. additionally you can customize the front side with prints. just expand your desk with our bannerblock extrusions 500mm art
If you want a good, stable information display with double sided poster pocket don't look past the stop info. Thanks to the magnetic closing system poster changing is quick and easy. The base is heavy for extra stability.
Trend soistes is a free standing display with 3 A4 trays made of satined acrylic with a 3cm lip. the trays are adaptable horizontally and can be regulated in height as well. the silvergrey coated 3mm thick aluminium composite panel can be customized with print. the panel supports are made of silver-plated brass.
A3
500x700mm
700x1000mm
Tray (Pack 2x)

✓
Flexible Options
✓
Nationwide Service
✓
Local Taxi
✓
Same Day Service
✓
Whitebox (Unbranded) Packaging

✓
Accurate Colour
✓
Calibrated Equipment
✓
Consistent Output
✓
Vivid Colour